I dined at Vancouver's The Acorn last night. No, I did not take an unexpected trip to Canada. My husband treated us to tickets to the popup dining event here in New York at Exhibit C on the Lower East Side.
The Acorn is a vegetarian restaurant that focuses on the vegetables. That might seem an obvious fact, but so many vegetarian spots have traditionally served fake meat, using seitan, soy or other substitutions to stand in for chicken or beef. The results can be tasty, but they offer little to tempt an omnivore. A recent trend of vegetable-forward cooking is giving veggies an opportunity to stand on their own. And people are eating them up.
Founders Shira Blustein and Scott Lewis, along with chefs Brian Luptak and Rob Clarke, brought seasonal produce from British Columbia to eager New York foodies. We sat at one long table, cozied in with new friends, to taste what they had on offer.
Each course had a wine pairing. It's not surprising that a wine industry thrives in British Columbia, just north of the United States' own west coast wine country, but I had never tasted a wine from the region. The wines we sampled were all from Okanagan Valley, B.C., and sommelier Kurtis Kolt was on hand to introduce them.
The meal began with slow-poached heirloom carrots perched on a luscious chestnut cream mousse with carrot jus. Caramelized coconut and bittercress on top added contrasting flavors. Instead of discarding the fibers left after juicing the carrots, The Acorn chefs made carrot dust to add to the plate. I loved the creamy mousse and the touch of crunchy coconut to balance the carrots. We were off to a great start. The wine was a crisp and not-too-sweet 2012 Tantalus Vineyards Riesling.
Next up was roasted kabocha squash with a bourbon maple glaze. Apple, fermented dandelion—wow!—and pumpkin seed rye crisps rounded it out. I have a kabocha at home right now, let's see if I can prepare it as well! Kolt mentioned that the 2012 Reserve Chardonnay from Mission Hill Family Estate was the only one of the night currently available for sale in NYC. The pairing was spot on. We thought it was a little funky on its own, but it blended perfectly with the dish.
A brassica sampler came third. It included pickled cabbage with mustard greens, roasted purple cabbage, and, my favorite, a crispy cauliflower potato nest. We enjoyed a 2012 Meyer Family Vineyard Pinot Noir with these, a good match.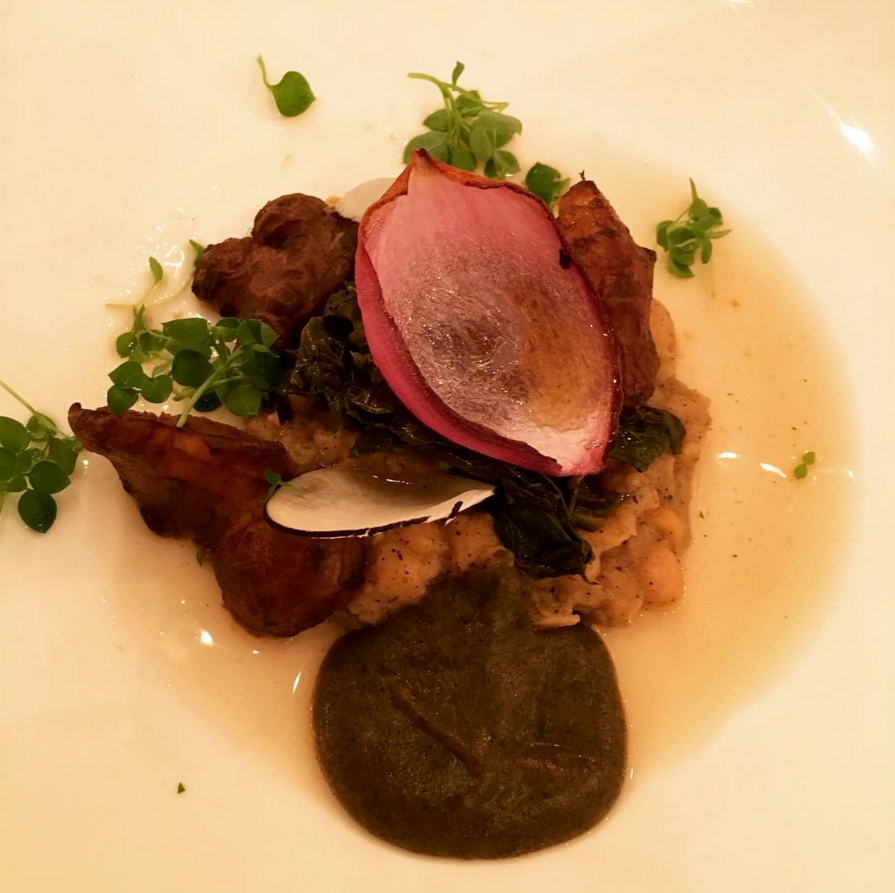 The fourth course was sunchokes, pictured above. These had been poached for 4 hours and were served in a flavorful chickpea broth with kelp purée. Firm on the outside and almost creamy on the inside, the sunchoke was a star. Collard greens and onions smoked with Canadian fir finished the dish, which went well with the full bodied 2011 Blind Trust Red from Laughing Stock. (The vineyard was started by former finance guys who hope never to live up to their name!)
Finally, it was time for the sweets. A fan of cashew milk, I was delighted to taste the cashew cheesecake. It was flavored with apples and cardamom and served with a sorrel sauce, topped with ginger chips and burnt orange slices. Mmmm… I definitely want to try these flavors together in my own baking. The 2012 Martin's Lane Riesling, another Mission Hill wine, was a refreshing choice for enjoying with dessert.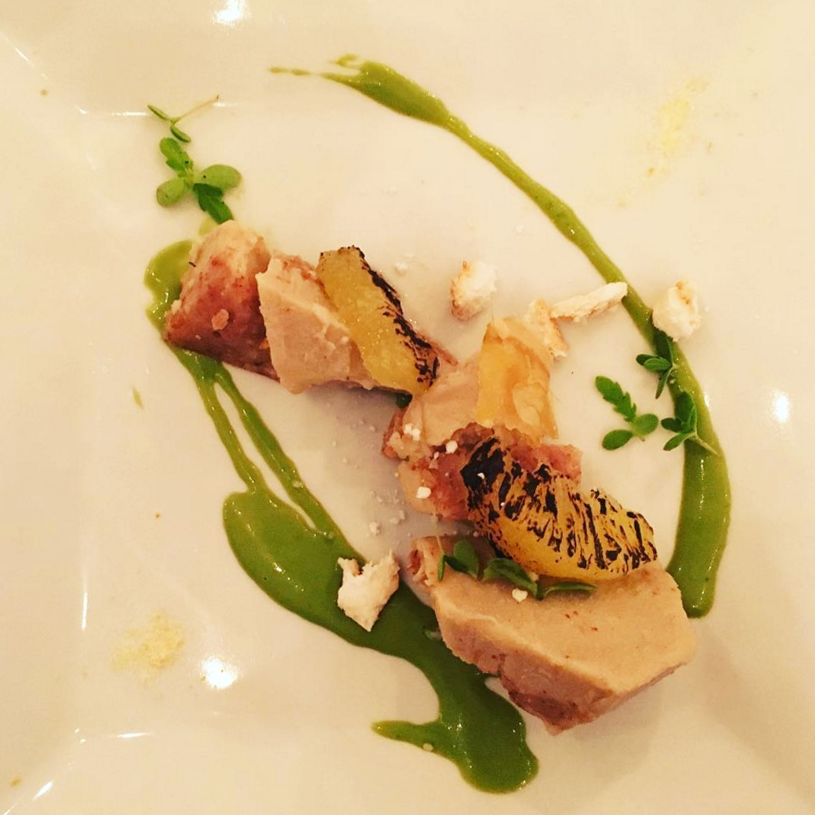 It was such an enjoyable experience. I hope to make it to the restaurant in Vancouver someday to try more creations from The Acorn.
The popup runs through Sunday, February 7, 2016. Though all evenings seem to be sold out, there is a waitlist. If you are in the Vancouver area, The Acorn will host an event with the same tasting menu and wine pairings on March 6, 2016 (check website for ticket info).