When I became engaged about 3 years ago, I knew my days in my cute studio apartment were limited. My husband and I managed to live there for 2 years together, I think we did well. It was a good place in a great building and neighborhood, but it was just too small for two.
As we were moving out last week, I was looking through old photos and discovered shots of my kitchen through the years. For those who are into this sort of thing, here is how my studio's kitchen (and my first real experiences with home renovation) evolved.
Phase I
Below is how my former kitchen looked when I first moved in. It had wood veneer cabinets that I couldn't stand, and old white appliances I didn't love. However, my renovation budget was practically nonexistent having just purchased my first home. The refrigerator and range worked fine, so I opted to live with them.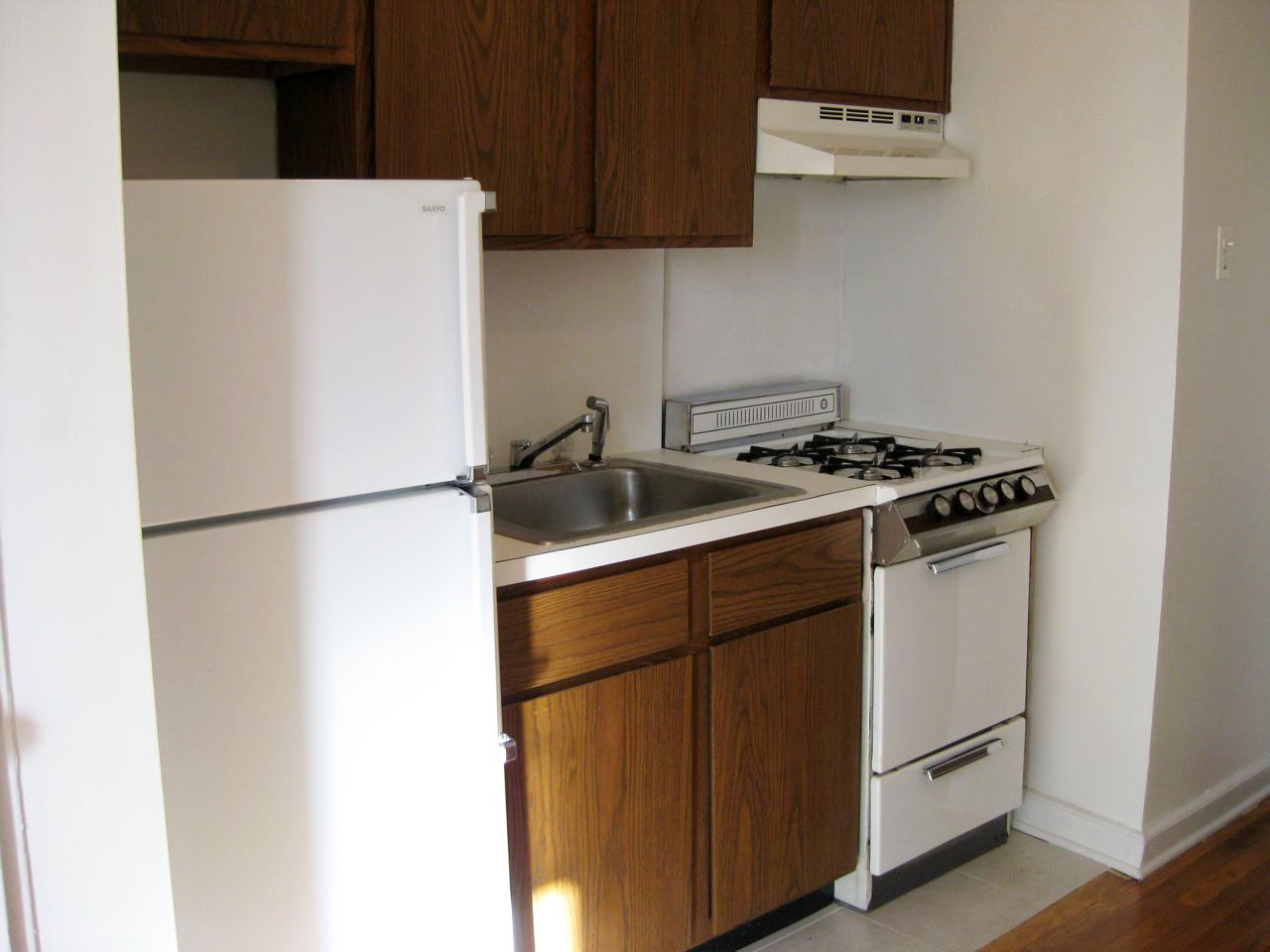 Phase II
I decided to do what I could with paint, going with a red, white, and black color scheme. First, I lured some friends in with pizza and beer to help me paint the kitchen and dining area red (Benjamin Moore Bonfire). A friend with a rotary sander—and more knowledge than I on the subject—helped by sanding each cabinet door, which I then painted with a glossy black. He had said he wasn't sure it would work, but was willing to try. It ended up looking pretty darn good, if I do say so myself, and lasting just fine for 4+ years.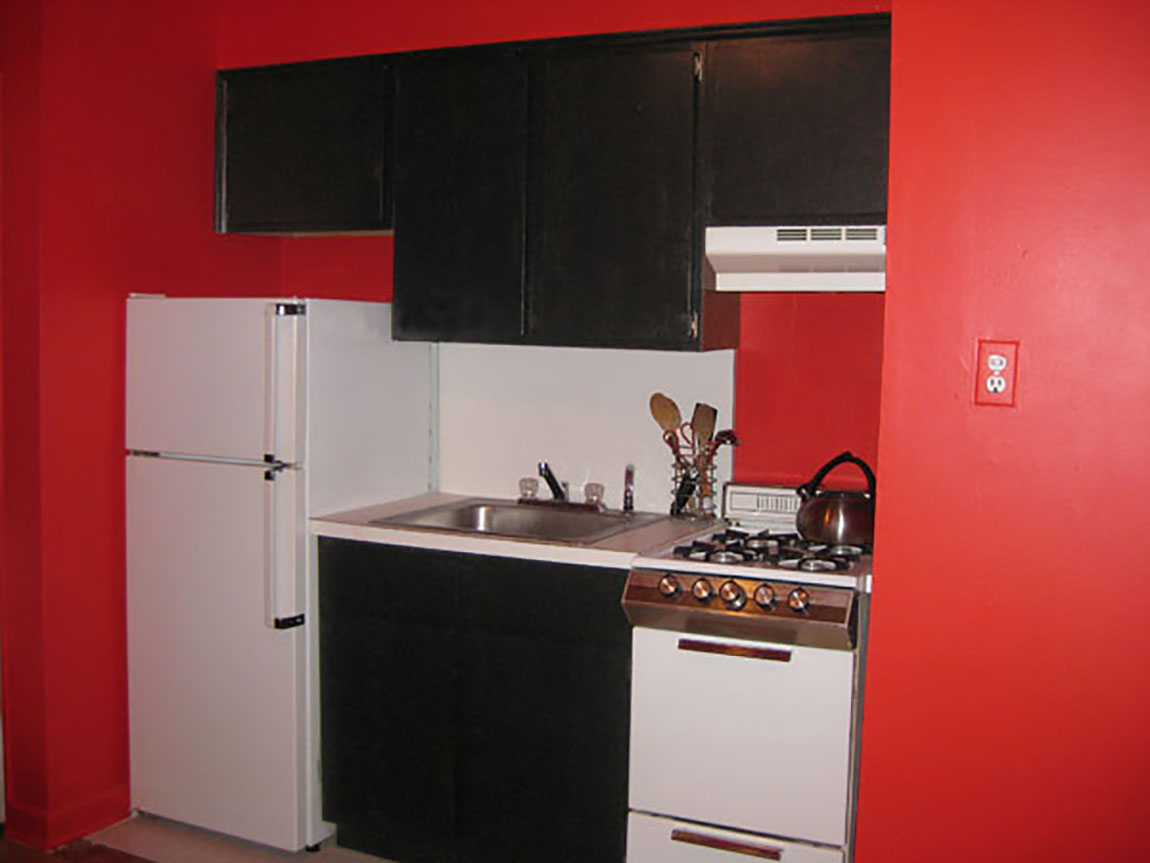 Phase III
Finally, about 2 1/2 years ago, I decided to really redo the kitchen. I wanted to update it both for my own use and with resale in mind. (I just sold the apartment, so I had plenty of time to enjoy it myself!) I had a good idea of what I wanted. After getting a few estimates, I settled on a contractor who had done work for a neighbor.
By the way, planning a wedding at the same time you are renovating your kitchen leads to some diverse shopping excursions. Luckily, the tile stores and the bridal hairpiece stores aren't too far apart in NYC.
Here is what I used:
Cabinets: IKEA Ramsjo Wall Cabinets – Black
Pull-out pantry: custom interior with IKEA Ramsjo Cabinet Doors
Counter: black granite
Sink: IKEA Bredskar with a Delta Savile Faucet
Backsplash: Allen + Roth Glacier Links (Stone/Glass/Metal) Mosaic Wall Tile
Stove: Avanti 24″ Stainless Steel Gas Range and Broan Extractor Fan
Refrigerator: LG 24″ Refrigerator with Bottom Freezer – Titanium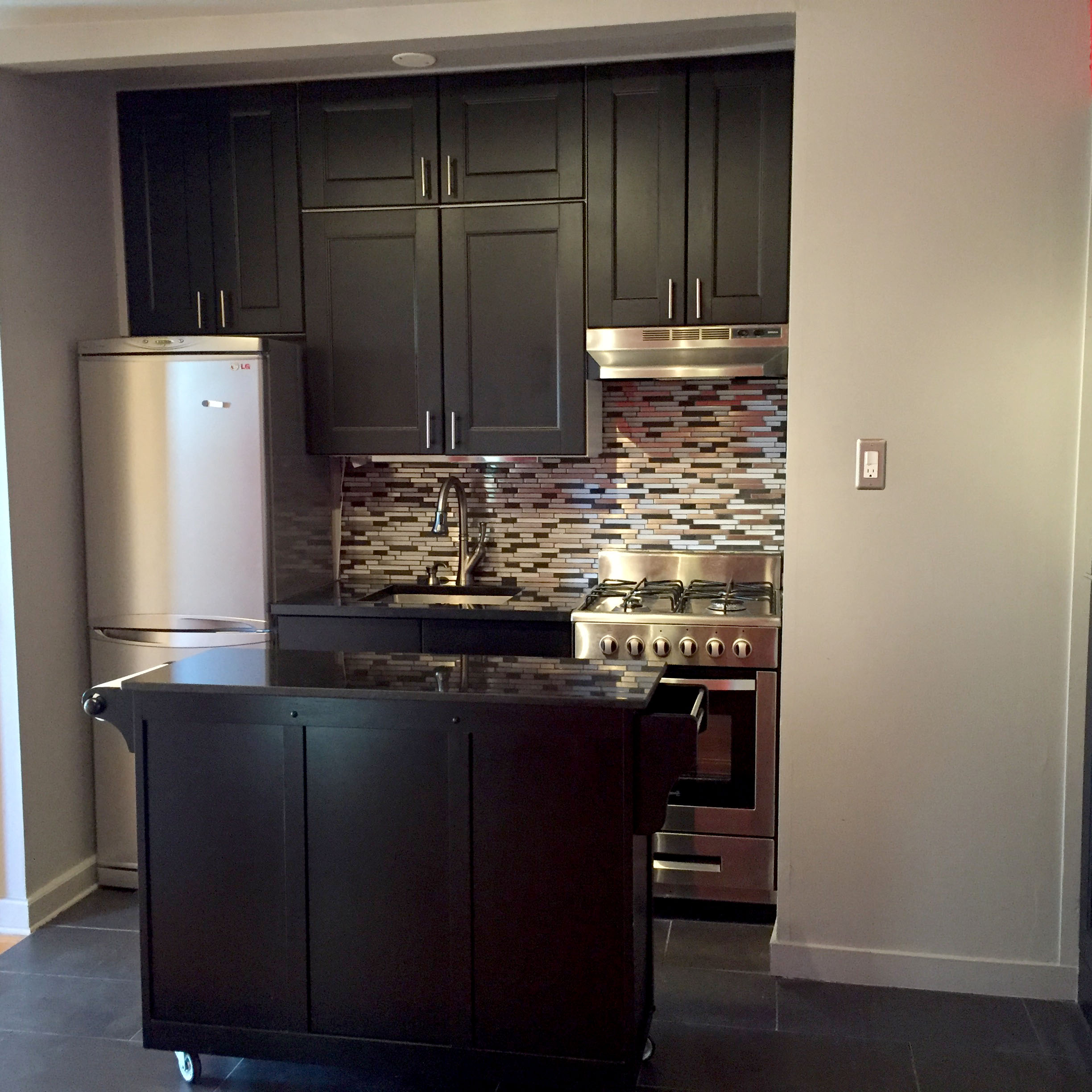 I'd initially planned to keep the red paint, touching up where needed after construction, but it looked wrong once the rest was done. I ended up painting it a light gray (with big help from my delighted now-husband, who always disliked the red). I did leave red in the dining area (not pictured), with one red panel that extended into the kitchen to bring it together.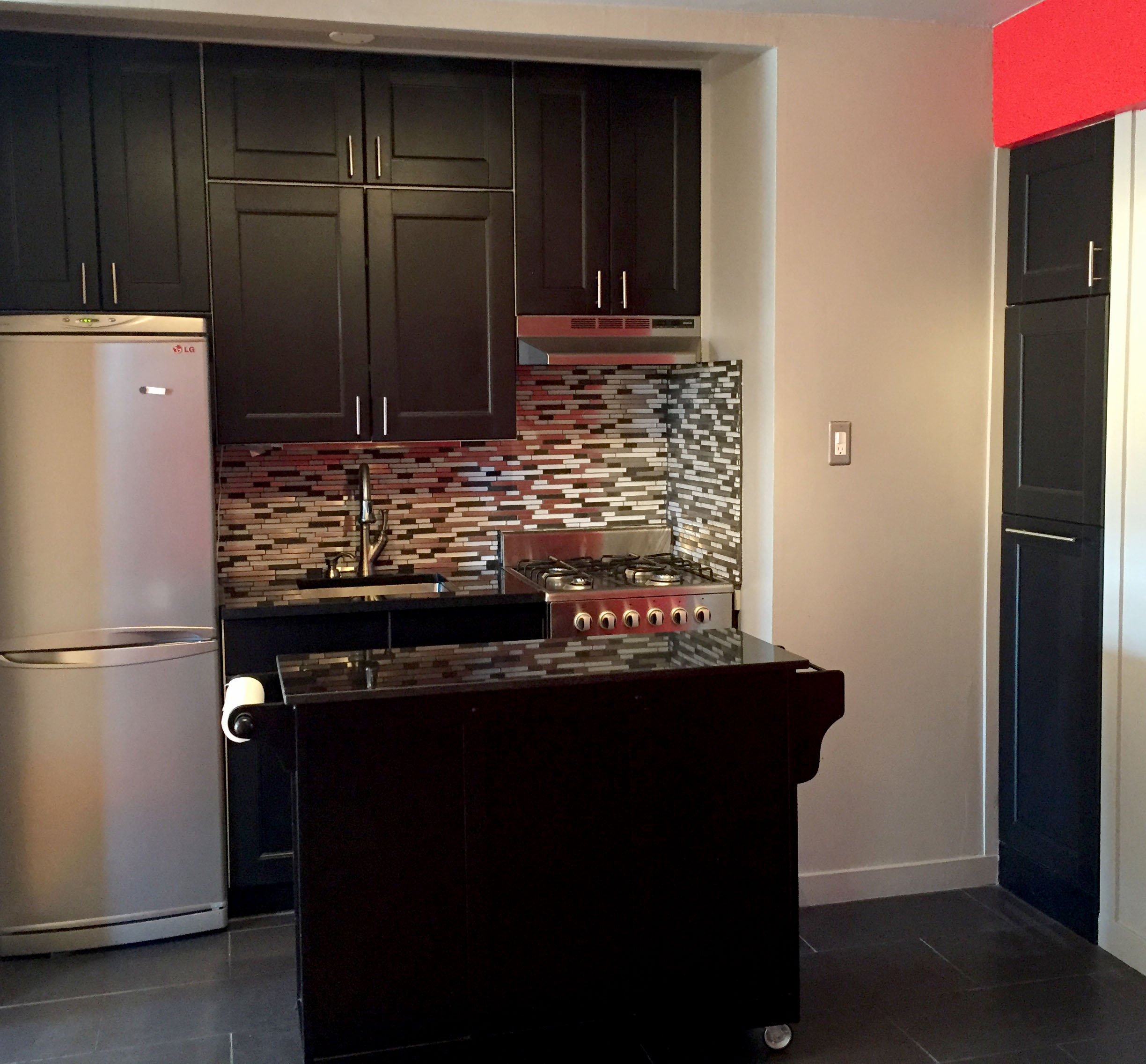 It all looked great, I'm really happy with the way it turned out. Using mostly IKEA products and having a reasonable contractor (who unfortunately no longer does these types of jobs) helped me keep to a budget. Things I would do differently, I would not buy this range or refrigerator again. They were the only 24″ versions I could find in stainless that wouldn't break the bank, but they had some issues.
The oven takes 10-15 seconds to light, by design. I thought it was broken until I read the manual. Also, though this range is 24″ and my old one was an even teenier 20″, the interior of the oven is not as big. As a baker, that was a problem. (I finally have a regular 36″ oven in our new place, and I can't wait to bake!)
The refrigerator is generally fine, but there is not enough room for tall items such as pitchers and milk containers, and the shelves are not very adjustable. I will miss the bottom freezer, though. We've barely bought any food to put in it, and I'm already tired of leaning down to get into the refrigerator.
It was a good kitchen over the years! Cupcakes by Amelie began there, my husband and I first cooked together there. It holds many memories.