I finished reading the latest (and last) Harry Potter book on Monday night. And I had waited several days before purchasing it in the first place. I guess I am a bad fan. It did take me just 3 sittings, though perhaps that's not impressive compared to how quickly some gobbled it up.
It's a little odd to be reading something everyone else is reading. I mean EVERYONE. Except for maybe those who think it's Satanic to write/read/think about witches and wizards…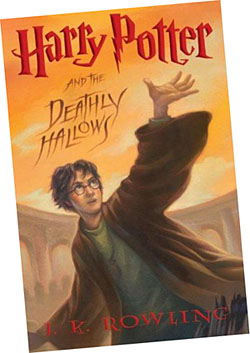 A friend of mine saw no less than 5 adults reading in the small park near her apartment one day. I saw 2 people devouring it in the same subway car – a soccer mom and a goth kid – one day last week.
What is it about this book?
It's easy enough to read. It has characters to whom almost anyone can relate. You've got your brains, bullies, athletes, popular kids, not-so-popular kids, airheads… (Huh, I feel like I'm quoting Ferris Bueller.) And throw them into a world with magic, and that's just cool for everyone.
I read a lot of fantasy. I used to read more, actually. I have a bookcase devoted to my sci-fi/fantasy collection, but I haven't added to it much lately. Well, it is full anyway.
I would have been a Harry Potter nut if I had been 11 when it came out. When I was 11 or so I was reading Madeleine L'Engle books (A Swiftly Tilting Planet was my favorite) and the Chronicles of Narnia (I read The Voyage of the Dawntreader to death) .
My current fantasy favorite is George R.R. Martin's A Song of Ice and Fire series. It is way more grown up than Harry Potter. The Detroit Free Press says it's "a fantasy series for hip, smart people, even those who don't read fantasy." Which I guess means I won't run into too many people reading it on the subway.